2 of 24cm Antistatic Ion Bars Plastic Film Antistatic Air bars Ionizing Air bars for Removing Static with High Voltage Generator Transformer Used for Packing and Plastic
Ionizing Bar
Place of origin:China Ion bar effective length:24cm (Can be customization) Total Length:30cm Packing include :2pcs ion bars and 7KV Static High Voltage Generator Input voltage:220V 50Hz or 110V 60hz Current consumption:0.36mA/M Working temperature:0~40 degrees Air pressure:5-7Kg Airflow rate:10m/sec handling time:3~5 working days Estimated Arrival Time:4~9 working days
Brand: JIAWANSHUN
ASIN: B077QRS3FZ
Part No: LU377
2 of 80cm Antistatic Ion Bars Plastic Film Antistatic Air bars Ionizing Air Bars for Removing Static with High Voltage Generator Transformer Used for Packing and Plastic
Ionizing Bar
Specification 1.Ion bars effective length:80cm (Can be customization) 2. Total Length:86cm 3. Packing include :2pcs ion bars and 7KV Static High Voltage Generator 4.Input voltage:220V 50Hz(If need 110V 60Hz or other special Voltage pls leave a message) 5. Current consumption:0.36mA/M 6.Working temperature:0~40 degree 7. Air pressure:5-7Kg 8. Airflow rate:10m/sec Handling time:3~5 working days Estimated Arrival Time:4~9 working days
Brand: JIAWANSHUN
ASIN: B013B04BC8
Part No: Chan-122
YUCHENGTECH Ionizing Air Bar L900x960mm Anti Static Ion Bar Industrial Electrostatic Eliminator with 7KV Voltage Generator (90cm,
Ionizing Bar
If you have any question, please feel free to contact us, we will try our best to help you.Working principle:The YUCHENGTECH Ionized Air Bar produces an air flow that is rich in positive and negative ions. Directing the air flow on an object that has static electricity charge will neutralize the charge. If the object has a negative static charge ,it will draw positive ions from the air flow. Conversely, if the object has a positive static charge , it will draw negative ions from the air flow. The air ions are attracted to the oppositely charged object and neutralize the charge on the object.Features:No electric shock design, more safe.Built-in an unique high air volume tube.Neutralize static electricity quickly.Stable and safe working performance.Easy and convenient installation.The ion bar has good ground protection.Technical parameters: Ion bar effective length: 90cmTotal Length: 96cm Output voltage: 7KVPower: 30W Current Consumption: 0.4μAInput voltage : 220V 60HzWorking temperature: 0-50℃Air pressure: 5-7KgAirflow rate : 10m/secHV cable length: 3mTest ResultsTesting Voltage: 5KV to 500VDistance: 20mm - 600mmDecay time: 0.3s - 5.5sThe closer the distance, the shorter the time to eliminate static electricity
Color: 220V
Brand: YUCHENGTECH
ASIN: B07T8YJZG8
Part No: CXX-95
EI-RN Ionizing Bar
Ionizing Bar
The HAUG EI RN ionizing bar is a powerful and rugged piece of equipment. Its construction satisfies all technical requirements and it has proven its value repeatedly in the removal of electrostatic charges during roll, sheet and web (continuous product) processing. Production interfering surface charges can be removed reliably and effectively - even at high operating speeds. The coaxial high-voltage plug-and-socket connection of the HAUG systemX-2000 offers a unique advantage in that the gastight high-voltage plug can be connected to the HAUG power pack easily and without tools. The flexible, coaxially shielded cable connects the ionizing unit with the voltage supply. The round construction of the EI RN ionizing bar permits the exact axial adjustment in the direction of travel of the material. The ionizing bar is safe to touch. Special wear-resistant electrodes guarantee long service life. The RN Ionizing bar is a standard touch-safe ionizer for web based applications. It is available in custom lengths from 6 inches to 15 feet. It is also available in a daisy chain version
Brand: Haug Anti-static devices
ASIN: B07HKP4CHT
Part No: EI-RN 041 200
Air Source Ion Output Adjustable Pulse Ion Bar,Ion Knife,Ionizing Air Bar,Ionizing Knife
Ionizing Bar
B-03 Air source AC pulse ion bar is the newest developed bar type static eliminator for static removing. It can be widely used in electronics, textile, optical and other industries.
Brand: Ion stat
ASIN: B07TCB3R9C
Part No: B-03
Hanchen Ionizing Air Bar Anti Static Air Curtain ESD Ionizing Bar Dust Remover Anti Static Ionizing Bar (110V Generator, 60cm Ionizing Air
Ionizing Bar
Hanchen NOTE: the price of option "Other length of ionizing bar" is not the actual price! According to different lengths, the price will be different. For example, you choose this option and place an order, then inform us the length you need, we will refund you the excess money you have paid, or ask you to pay more according to the length you need. Description Electrostatic Elimination of Separators for Lithium Ion Batteries Remove Dust Before Coating on PC Board Parameters Ionizing Air Bar's Parameters Model: TR7051 Input Voltage: 4.6KV Ion Balance: lower than average ±50V The length of high voltage power cord: 3m (9.84 ft) Material: main body: aluminium; ion needle: titanium alloy (non-replaceable) Compressed air pressure: 0.3-0.5 Mpa Gas supply pipe diameter: 8mm(0.3'')(external) Use environment: temperature: 0-50℃(32-122℉); humidity: 35-80% RH (no condensation) High Voltage Generator's Parameters Input Voltage: 110V , 220V Input Current: 0.22A-0.11A Operating Temperature: 0-50℃ (32-122℉) Output Voltage: 4.6KV*2 Output Current: Max4.5mA Size: 144*110*98mm (5.6*4.3*3.8 inches) Weight: 2.2kg (4.85 lb) Power Cord Length: 1.5m (4.92 ft) Note We provide ONE YEAR warranty for every our customer. If you have any questions, please feel free to contact us directly. We will...
Color: 110V Generator
Brand: Hanchen
ASIN: B07TG2813L
Part No: HT-38
2 of 50cm Antistatic Ion Bars Plastic Film Antistatic Air bars Ionizing Air bars for Removing Static with High Voltage Generator Transformer Used for Packing and Plastic
Ionizing Bar
Place of origin:Guangdong,China Ion bar effective length:50cm (Can be customization) Total Length:56cm Packing include :2pcs ion bar and 7KV Static High Voltage Generator(ion bar wire length 3M power line) Input voltage:220V 50Hz(If need 110V 60Hz or other special Voltage pls leave a message) Current consumption:0.36mA/M Working temperature:0~40 degrees Air pressure:5-7Kg Airflow rate:10m/sec handling time:3~5 working days Estimated Arrival Time:4~9 working days
Brand: JIAWANSHUN
ASIN: B013ALH20G
Part No: Chan-117
EI-VS Ionizing bar 046 200
Ionizing Bar
The HAUG EI VS ionizing bar reliably removes electrostatic charges and its performance, when compared to the standard version, is considerably enhanced. The EI VS ionizing bar has all of the typical features that characterize HAUG ionizing bars: the reliably and removable plug-and-socket connection System X-2000, the shielded high-voltage cable, the special stainless-steel electrodes and the convenience of being safe to touch. The electrical capacity of the EI VS ionizing bar is three times as great as the standard version, and therefore, it is necessary to base any power pack load calculations on a bar length three times as long. Available in multiple in different cord lengths and ionizing bar sizes. excellent solution reducing static in the production of plastic sheeting and pad printing applications. The VS Ionizing Bar is a high-output Ionizer designed to eliminate very strong surface charges. It is effective at distance up to approx. 8 inches from the web. it is touch safe and web. It is touch safe also be daisy chained. For further information see our brochure: http://www.haug-static.com/pdf/static-elimination/EI-VS_p_GB.pdf
Brand: Haug Anti-static devices
ASIN: B07H7PL2NH
Power Supply for FusION Ionizing
Ionizing Bar
Power Supply for FusION Ionizing Bars #4010448-45325. PLEASE DO NOT HESITATE TO CONTACT THE SELLER IF YOU NEED ADDITIONAL DETAILS OF THIS PRODUCT
Brand: Simco-Ion
ASIN: B072XWLNS7
Part No: 4010448-45325
IN1202-44 - IN1202-44 Pulsed Dual DC Ionizing Bar - IN1200 Series Ion Bars, Transforming Technologies -
Ionizing Bar
With the combination of pulsed Dual DC technology and an unique design, Transforming Technologiesâ IN1200 Ion Bar ionizer provides uniform static elimination at high speeds. The IN1200 quickly and efficiently controls static in mini-environments, laminar flow hoods and wide area workstation applications. The ionizing bar features a unique aerodynamic design that ionizes a local area without disrupting laminar flow. It is an highly effective tool in electronics, plastics, chemicals, printing, textile, optical and other industries. Installation is simple with easy mount clips and maintenance is reduced by high density tungsten emitters enclosed in a patented replaceable molded cap. Available in 22â, 44â or 64â lengths.The IN1200 has an easy to read LED screen to aid in adjustments and displays errors. The IN1200 Bar detects error conditions and an audible alarm and visual indicator on the LED displays the issue.The IN1200 is powered by a Cat-5 cable input with 24 volt adapter. Two or more ion bars can be connected in series through the secondary RMS port.The IN1200 is an industry leader in maintenance saving performance. The patented molded emitter and high density tungsten probe prevents wear and particle accumulation. The IN1200 includes a self diagnosis function that monitor...
Brand: Transforming Technologies
ASIN: B01MR2E2H8
Part No: IN1202-44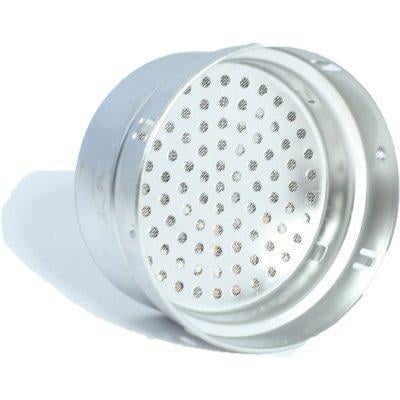 ehm nano energy bottle flask cup (replacement filter) - portable water ionizer- alkaline water. makes great-tasting alkaline ionized water
Ionizing Bar
Ionizing Bar: Static-Decay Test -Terra Universal
Ionizing Bar
Terra Universal's Ionizing Bar neutralizes static charges to protect sensitive parts. By doing so, it also eliminates static attractive forces that can cause a build-up of contaminants. This video demonstrates the effectiveness of an Ionizing Bar mounted inside a clean room. Other common uses inc...
Likes:
View count: 6650
Dislikes:
Comments:
Ionizing Bar R797 Search Results
Looking for more Ionizing Bar similar ideas? Try to explore these searches: Cabin Bag, Praying Girl Pendant, and Fleur De Lis Stick.
FindShopent.com is a participant in the Amazon Services LLC Associates Program, an affiliate advertising program designed to provide a means for sites to earn advertising fees by advertising and linking to Amazon.com. Amazon and the Amazon logo are trademarks of Amazon.com, Inc. or one of its affiliates.